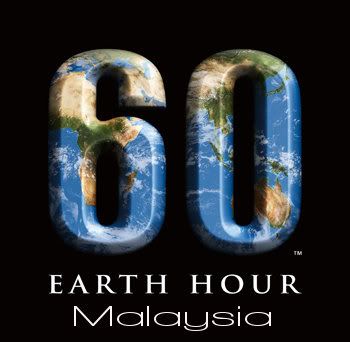 Yesterday was Earth hour. It was a blast! From 8.30pm to 9.30 pm - all lights were out or so I think. My family and I went to KLCC for dinner as we witnessed the Earth hour. Surprisingly, there were a lot of people there.
The moment it reached 8.30 pm, those 'unimportant lights' went off. My mum said they off all the lights because of security, mainly snatch thieves. Well, I thought it would be so cool if all the lights went off. But there were a few restaurants off all the lights - DOME did. It was pretty awesome since they lighted up candles only and opened up all the doors & windows for fresh air.
Outside near the huge fountain, people got out at 9.30 pm to see the towers being lighted up again. IT WAS SOOOOOOOOO COOOOOL!!! It was like starting from the bottom like a countdown. All heads were looking at the more than 200 meters towers as they were being lighted up. Everyone went 'whoooaaa' and some clapped and cheered.
This Earth Hour actually made me think back about those people in the old days. When there were no electric, no lights, no heater, no laptops...I wonder how they actually survived and enjoyed?
I truly salute their hardship and determined in life but phew! Thank God I'm living in the 21st Century where eveyrthing is there. No need to make my own fire to cook my food, no need to sleep on rocks when there's my comfy bed.
But I guess Earth Hour taught us to appreciate things while we can. Because nothing last forever(: