I like that picture. Well, mostly because of that kitty. I love cats ;D
Okay. I'm sick. Having a cold, itch throat and ulcer which made me had to skip school. UGH. Having a cold is the worst thing cause I'll start sneezing and sneezing and never stopping! *right now*
So it's end of April already. It's quite amazing looking backing, seeing how far I've come. Some would say 17 years is short but the journey was double, if not, triple of it. Why is it amazing (though I agree most of the time I'll be yelling: it sucks!), well, because all of what had happened, let it be the best or the worst, the ugly or the beautiful, the awkwardness or embarrassment - it shaped me into who I am today (:
By end of this year, I'll be saying
BYE-BYE
to my school uniforms, textbooks and teachers. I'm 90% looking forward to it but another 10%, I know I'll be sad. Hell yeah, no more homework or teachers yelling but man, there won't be anymore situation like this anymore. And, my classmates! HAHAHA, I'm gonna miss them so much! If only I could record every little bit of our school days everyday.
Sigh. But there's this HUGE exam awaiting for me and all my friends at the end of the year. When I say
HUGE
, I mean really
HUGE
. It's nation-wide exam called SPM and that's the key to college. If I fail, I have no chance of setting my foot in college.
I'm taking
10 freaking subjects
(WHY, oh WHY)
1. English
2. Bahasa Malaysia
3. Mathematics
4. Additional Mathematics
5. History
6. Biology
7. Chemistry
8. Physics
9. Islamic Studies
10. English for Science & Technology
UGHH. I'm in the science stream but at the end of the day, I don't want to do anything at all with science. I loveee creative writing and arts. I love those streams. Where whatever conclusion or statement you come up with, is accepted because they believe in Freedom of Expression. But now, in science - all they want is
PROOF
and
FACTS.
Okay, I get it but honestly, I like seeing things from the way I see them.
I can't wait for my last year of school to end, yet I'm nervous and scared. Hopefully, there'll be prom this year since last year, it was canceled. Curse the school board! But I heard some girls are already backing up with a plan *wink* HAHAHA, senior year is never the same without prom. HEY, that's all what we dream on our last senior year, right? ;)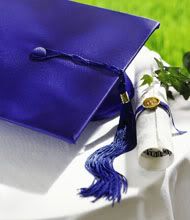 Like every person around the world whose school year is coming to an end, I want it to be perfect and ever-lasting. I want to laugh more, do more and love more. I pray that God will make my senior year the best year I ever have. Cause honestly, after 11 years of schooling, you have to admit you'll miss it but at the same time, it's time to take on another route.
I've been able to see my last year seniors on Facebook (lame, I know) on how they're doing. All of them, including the rebels missed school life but all are happy in colleges now. Some even went abroad to study and I want to study abroad!
Guess I have to wait for my turn.
Driving license.

College

.

SPM
:OO
May the Lord bless us all and linger my senior year with full of blossoms!
XOXO